Laparoscopic Gastric Sleeve
Sleeve gastrectomy is a procedure that induces weight loss by restricting food intake. With this procedure the surgeon removes approximately 60 percent of the patient's stomach laparoscopically so that the stomach takes the shape of a sleeve, thereby decreasing the appetite as well as creating an earlier sense of fullness for the patient.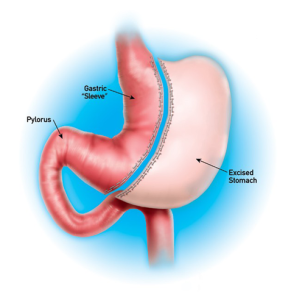 According to the American Society of Metabolic and Bariatric Surgeons, this approach involves performing a less invasive procedure that reduces weight to a safer level and improves overall medical condition first; then a more complex, definitive procedure is performed once the operative risks of the patient decrease significantly due to the initial weight loss, if so desired. These less invasive steps have included the "sleeve gastrectomy," as a possible interim step before a Roux-en-y Gastric Bypass is performed, on some occasions. The sleeve gastrectomy is now established as the first stage of a two stage procedure as well as a single stage procedure depending on the medical needs of the patient. The sleeve gastrectomy does not require the implantation of a foreign body or rearrange the intestinal tract.
Similar to the Roux-en-Y bypass the Gastric Sleeve is expected to have a length of stay in the hospital of approximately 1-2 days. Operating room time can be expected to be around 190 minutes, similar to that of a Roux-en-Y.
---
Methodist Hospitals Center for Bariatric Surgery
Weight Loss / Bariatrics:  Pavilion A, 101 East 87th Avenue, Merrillville, IN 46410  •  219-738-5617