Outpatient Diagnostic Center
Methodist Hospitals' Outpatient Diagnostic Center combines state-of-the-art diagnostic testing with comfort and convenience, including reduced waiting times.
The Center's highly trained staff includes experienced, board-certified radiologists and certified radiology professionals who are dedicated to delivering top level services with genuine concern for their patients. This attractive new facility features the highest quality imaging and diagnostic services with walk-in services that include x-rays, laboratory and EKG.
Centrally Located
The Outpatient Diagnostic Center is located just west of the main entrance of our Southlake Campus in Merrillville at 101 East 87th Avenue. Parking is conveniently located directly in front of the facility.
New Outpatient Diagnostic Center Hours:
Monday – Friday 7:00 a.m. to 5:00 p.m.
To make an appointment, call our Scheduling Department at 219-981-5440.
Diagnostic Center Services
Routine Diagnostic Radiology
The Center is fully equipped with the most up-to-date radiographic equipment to perform routine diagnostic x-rays.
Laboratory
Lab analysis is performed in our full service Clinical Laboratory, which is accredited by the Joint Commission. Using state-of-the-art technology, it provides comprehensive services in the field of Clinical Chemistry, Hematology, Coagulation, Transfusion Medicine, Microbiology, Immunology and Pathology.
A team of Board certified pathologist provides clinical oversight to the laboratory to assure consistent, high quality operation. The pathologist also provides consulting services to the clinicians, if needed.
Bone Density Exams (Thursdays only)
We test for bone strength and the possibility of fracture in a simple, painless procedure.
EKG
Heart irregularities or damage can be detected in this painless, brief test that records the electrical activity of the heart.
Computed Tomography (CT)
The GE LightSpeed Pro16 reduces patient exposure to radiation and lowers noise levels while providing superior image resolution.
PET/Computed Tomography (CT)
This highly accurate screening combines CT technology with three-dimensional PET imaging.
State-of-the-Art 3D Digital Mammography
Methodist Hospitals uses three dimensional digital technology to achieve the most accurate screening results.
Stereotactic Breast Biopsies
Suspicious lesions are biopsied with pinpoint precision and results are delivered quickly.
Ultrasound / Ultrasound guided biopsies
Ultrasound screenings and guided biopsies are completed using top quality equipment.
Magnetic Resonance Imaging (MRI)
The GE Signa ExciteHD MRI provides comfort and accuracy, with reduced noise levels and test time and high quality images.
---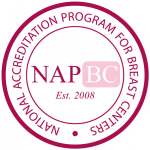 Methodist is the FIRST hospital in NWI to be accredited by the
American College of Surgeon's National Accreditation Program for Breast Centers.
---
Methodist Hospitals Outpatient Diagnostic Center
Outpatient Diagnostic Center
Pavilion A • 101 East 87th Avenue • Merrillville, IN 46410 • 219-981-5400