Precision Diagnostics
Sophisticated technology and clinical expertise give Methodist Hospitals highly accurate diagnostic capabilities. Our radiologists and clinicians have received advanced education and certifications, and provide comprehensive, interventional, therapeutic and consultative access to physicians and their patients.
Diagnostic services include:
Lightspeed C.T.
Radioimaging providing superior three-dimensional studies of internal organs and structures; enhanced visuals of arteries and pulmonary studies, in minutes.
MRI Services
A noninvasive imaging technique, MRI is an invaluable tool in the early diagnosis and evaluation of a broad range of conditions.
PET Scan
A PET scan is a high energy nuclear medicine imaging technique that measures important body functions, producing a three-dimensional image. It is most often used for medical imaging of tumors and the search for metastases in the early diagnosis and staging of cancer.
Ultrasound
Ultrasound provides the most efficient and effective means of pre- and post-procedure planning. It is key to providing visualization for accurate placement of implant needles and seeds required for optimal treatment in High Dose Rate (HDR) Brachytherapy.
Lab and Pathology
Methodist Hospitals offers a full portfolio of excellent laboratory services to support the diagnosis and therapeutic management of cancer. Under the direction of board certified pathologists, we provide comprehensive anatomical and clinical pathology consultations and cytology services. Methodist uses advanced technology to provide accurate, reliable and clinically relevant data, and is linked to Mayo Clinic for more complex studies.
---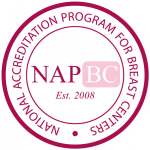 Methodist is the FIRST hospital in NWI to be accredited by the
American College of Surgeon's National Accreditation Program for Breast Centers.
---
Cancer Support Group
An information and support session about healthy eating, activity, stress management and coping during & after cancer treatment.
Southlake Campus, Pavilion B, Oncology Institute Resource Library
200 E. 89th Ave, Merrillville, IN 46410
By appointment: 219-757-7212
Genetics Counseling
Identify your potential health risks in order to make informed decisions. The counseling also helps identify your genetic results, and provides support throughout the process.
Southlake Campus, Pavilion B, Oncology Institute
200 E. 89th Ave, Merrillville, IN 46410
By appointment: 219-757-7212
Lymphedema Clinic
Patients with lymphedema of the upper extremities can learn proper skin care, diet and exercises, massage and other compression techniques.
Southlake Campus, Pavilion D
303 East 89th Ave, Merrillville, IN 46410
By appointment: 219-738-3500
Cancer Patients' Yoga Class
This class is specifically designed for people living with cancer and is taught by a Certified Hatha Yoga instructor. Hatha Yoga is the preferred yoga practice for cancer patients. It focuses on easy movement and body postures, meditation and brAZZeathing. Classes meet every other Thursday. Southlake Campus, Cancer Resource Center, Pavilion B, 200 E. 89th Ave, Merrillville. For information, call 219-757-7212.
---
Methodist Hospitals Oncology Program
Southlake Campus:  Pavilion B, 200 East 89th Drive, Merrillville, IN 46410  •  219-757-7212