Breast Cancer Care
The Region's Most Advanced Breast Care
When you need the highest level of breast cancer care, you'll find it right here at Methodist Hospitals.
Comfort and compassion are paired with the latest technology, treatments and research. Individualized care is delivered by a team of breast health specialists whose overriding goal is to expedite diagnosis and facilitate treatment decisions. Our overriding goal – and passion – is to provide the best possible treatment and outcome for you.
Surgical Services
Our multidisciplinary team of physicians, including surgeons, medical oncologists, radiation oncologists and pathologists, is supported by a staff of healthcare professionals experienced in delivering cancer care.
Radiation Oncology
Methodist's Radiation Oncology Center offers a full range of radiation therapy modalities, including External Beam Radiation, Stereotactic Body Radiosurgery, Intensity Modulated Radiation Therapy (IMRT), and Brachytherapy.
Medical Oncology
Methodist Hospitals' medical staff includes experienced medical oncologists trained at top tier institutions such as Harvard, Johns Hopkins, Northwestern, Rush, University of Chicago and the University of Illinois.
Plastic & Reconstructive Surgery
The Breast Care Center's board certified plastic and reconstructive surgeon brings the expertise to restore the natural look and feel of the breast.
Team Approach
In our case review process, a multidisciplinary team of physicians and nurses reaches consensus recommendations for cancer care based on national practice guidelines. All breast cancer cases are reviewed twice a month.
---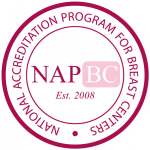 Methodist is the FIRST hospital in NWI to be accredited by the
American College of Surgeon's National Accreditation Program for Breast Centers.
---
Cancer Support Group
An information and support session about healthy eating, activity, stress management and coping during & after cancer treatment.
Southlake Campus, Pavilion B, Oncology Institute Resource Library
200 E. 89th Ave, Merrillville, IN 46410
By appointment: 219-757-7212
Genetics Counseling
Identify your potential health risks in order to make informed decisions. The counseling also helps identify your genetic results, and provides support throughout the process.
Southlake Campus, Pavilion B, Oncology Institute
200 E. 89th Ave, Merrillville, IN 46410
By appointment: 219-757-7212
Lymphedema Clinic
Patients with lymphedema of the upper extremities can learn proper skin care, diet and exercises, massage and other compression techniques.
Southlake Campus, Pavilion D
303 East 89th Ave, Merrillville, IN 46410
By appointment: 219-738-3500
Cancer Patients' Yoga Class
This class is specifically designed for people living with cancer and is taught by a Certified Hatha Yoga instructor. Hatha Yoga is the preferred yoga practice for cancer patients. It focuses on easy movement and body postures, meditation and brAZZeathing. Classes meet every other Thursday. Southlake Campus, Cancer Resource Center, Pavilion B, 200 E. 89th Ave, Merrillville. For information, call 219-757-7212.
---
Methodist Hospitals Oncology Program
Southlake Campus:  Pavilion B, 200 East 89th Drive, Merrillville, IN 46410  •  219-757-7212