Executive Team
Raymond Grady, MHA, FACHE
President and CEO
Mr. Grady joined Methodist Hospitals as President and CEO on February 23, 2015. He currently serves as a member of the Board of Directors for the Indiana Hospital Association, and is the Chairman of the Board for the American Heart & Stroke Association Northwest Indiana Chapter.
Ray Grady is a seasoned leader with demonstrated ability in building exceptional relationships with Medical Staff, forging strong partnerships with communities, and enhancing the quality of patient experience. Mr. Grady has extensive experience in all aspects of hospital and health care management. His experience includes quality and safety improvement processes, cost and productivity improvement, clinical partnership development, ACO development and system growth through joint ventures and acquisition. He has worked on health care reform issues at a national level through his service on the American Hospital Association Board of Trustees.
Mr. Grady's career includes a long tenure at NorthShore University HealthSystem just north of Chicago, where he served as President and Chief Executive Officer of the health system and CEO of Evanston Hospital, its flagship hospital. He has also served as the Chief Administrative Officer of Aurora Healthcare, a 15-hospital integrated delivery system. In that position he provided strategic oversight of system wide initiatives in supply chain management, clinical research and Aurora Ventures, the for-profit arm of Aurora.
He is a fellow of the American College of Healthcare Executives and has chaired the Illinois Hospital Association, The Institute for Diversity and currently serves on the board of the Association of University Programs. Mr. Grady most recently was Executive in Residence, Department of Health Policy and Management of the Graduate School of Public Health at the University of Pittsburgh, and has also served on the adjunct faculty of the Marquette University Graduate School of Business, where he taught healthcare management.
Matthew Doyle, CPA
Senior Vice President, Chief Financial Officer
Matthew joined Methodist in February 2007 as the Corporate Controller and after four and a half years accepted a move to his current position as the Chief Financial Officer. Prior to joining Methodist Matthew was a Vice President of MCDoyle LLC a consulting company specializing in healthcare turnaround work. Matthew has held numerous key management roles including 5 years as the Chief Financial Officer at Columbus Community Hospital in Columbus, Ohio. Matthew graduated from Franklin University with his Bachelor of Science in Accounting and Finance and is a CPA as well as a member of the Healthcare Finance Management Association.

Marla Hoyer-Lareau, RN, BSN, MHA
Senior Vice President and Chief Administrative Officer
Marla Hoyer-Lareau joined Methodist Hospitals as Senior Vice President and Chief Administrative Officer in December, 2019. Marla joined Methodist from long-term acute care hospital Vibra, where she was Chief Executive Officer.  Prior to that she served as Chief Operating Officer at Presence Resurrection Medical Center in Chicago and spent 27 years with the Franciscan organization, most recently as Chief Nursing Officer and Vice President of Patient Care Services for the Franciscan Hammond, Munster, and Dyer Campuses.  Marla has deep expertise executive leadership, including building a culture of excellence in patient experience, leading process improvement, managing change and producing and maintaining quality outcomes.  She earned a Bachelor of Science in Nursing degree from Valparaiso University and holds a Master of Healthcare Administration with Academic Honors from the University of St. Francis.

Vincent L. Sevier, MD, MBA, CPE
Senior Vice President and Chief Quality Officer
Dr. Sevier joined Methodist Hospitals in May of 2016 as Vice President and Chief Quality Officer. He comes to Methodist from OSF St Anthony Medical Center in Rockford, Illinois, where he served as Vice Chief and Associate Medical Director where he was charged with improving the patient experience and quality of care in the Emergency Department. Much of his career was spent at Northwest Community Hospital in Arlington Heights, Illinois, serving as Chief and Medical Director, where he developed and implemented a variety of initiatives to improve process flow, patient experience, clinical quality and operational efficiency. Dr. Sevier is an experienced physician and practices Emergency Medicine.
Dr. Sevier holds a BA from Washington University in St. Louis, an MD from the University of Illinois College of Medicine and an MBA from the University of Tennessee. He is Board-Certified in Emergency Medicine, a Fellow of the American College of Emergency Physicians, a Certified Physician Executive with the American Association of Physician Leadership and a member of the American College of Healthcare Executives.

Wright Alcorn, MHA, FACHE
Vice President, Operations
Wright Alcorn joined Methodist Hospitals as Interim Vice-President of Operation in February 2012 and in August 2012 accepted the position of Vice President of Operations. He has over 25 years of experience in hospital and health system administration and operations including clinical and support service operations, service line development and management, new program and business development and regulatory and compliance oversight. Wright has worked at Piedmont Hospital in Atlanta, Georgia, and Methodist Hospitals in Houston, Texas. Wright holds a Masters in Healthcare Administration from Washington University in St. Louis, Missouri and is a Fellow in the American College of Healthcare Executives.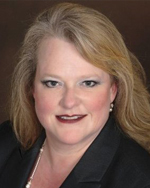 Tracey L. Crandall, SHRM-SCP
Vice President, Chief Human Resource Officer
Tracey joined Methodist in January 2017 as the Vice-President, Chief Human Resource Officer. Tracey most recently served as Vice President of the Human Resources Department at Inova Health System located in Falls Church, Virginia. Prior to that assignment she worked as Vice President of Human Resources with Fresenius Medical Services. Tracey has a strong background in talent acquisition, employee relations and organizational change. Tracey grew up on the south side of Chicago, graduated from Eastern Illinois University with a Bachelor of Science in Psychology.

Jim Renneker, MSN, RN, FACHE
Vice President and Chief Nursing Officer
Jim Renneker, MSN, RN, FACHE joined Methodist Hospitals on December 11, 2017, as Vice President and Chief Nursing Officer (CNO).  Jim joined Methodist from Loretto Hospital in Chicago, Illinois.  Jim is an accomplished nurse executive with over 35 years of demonstrated experience and leadership in acute care, home health, hospice, and long term care settings in community hospitals as well as academic medical centers.  His career includes senior level positions at Highland Hospital, Weiss Memorial Hospital and Sinai Medical Center, affiliated with the Aurora Health System in Milwaukee, Wisconsin.  Jim holds a Bachelor of Science in Nursing from Creighton University and a Masters of Science in Nursing from the University of Cincinnati.  He is a Fellow of the American College of Healthcare Executives, an Academy Fellow of the Advisory Board Company and a Past President of the Illinois Organization of Nurse Leaders and the Chicago Health Executives Forum.